Honda Unleashes a Trio of Rugged TrailSport SUVs to the All-Women Off-Road 2023 Rebelle Rally
Blog
Oct 19th, 2023
Honda Pilot and Passport TrailSports will compete largely unmodified, showing rugged capability and durability of Honda light trucks
Competition vehicles feature "pop art" exterior wraps, the boldest designs ever for Honda Rebelle Rally entrants
Honda engineers along with journalist Mercedes Lilienthal will pilot the entries
Rebelle Rally is nation's longest competitive off-road rally at more than 1,500 miles
Honda today unveiled its trio of rugged TrailSport SUVs that will compete in the grueling 2023 Rebelle Rally, an eight-day off-road competition through the unforgiving desert conditions of the American Southwest. Piloted by Honda associates and automotive journalists, two 2024 Pilot TrailSports and the refreshed 2024 Passport TrailSport will compete in the all-women navigation event from October 12-21. The Honda Pilot TrailSport and updated Passport TrailsSport will challenge the difficult conditions, putting the handling, capability and durability to the test.
All three Honda TrailSport SUVs will compete wearing a special Rebelle Rally exterior wrap with vivid colors inspired by comic book "pop art" style. Designed by Honda exterior designer Lili Melikian, of the Honda Design Studio in Torrance, Calif., the bold exterior graphics showcases a unique terrain on each vehicle, including dust, water and rocks, flying off the wheels, highlighting TrailSport's rugged capability in the many tortuous landscapes they will be encounter during the weeklong off-road competition.
This is the fifth year Honda engineers are using America's longest off-road rally, more than 1,500 miles across the deserts of California and Nevada, to further explore the rugged performance of off-road components in extreme environments.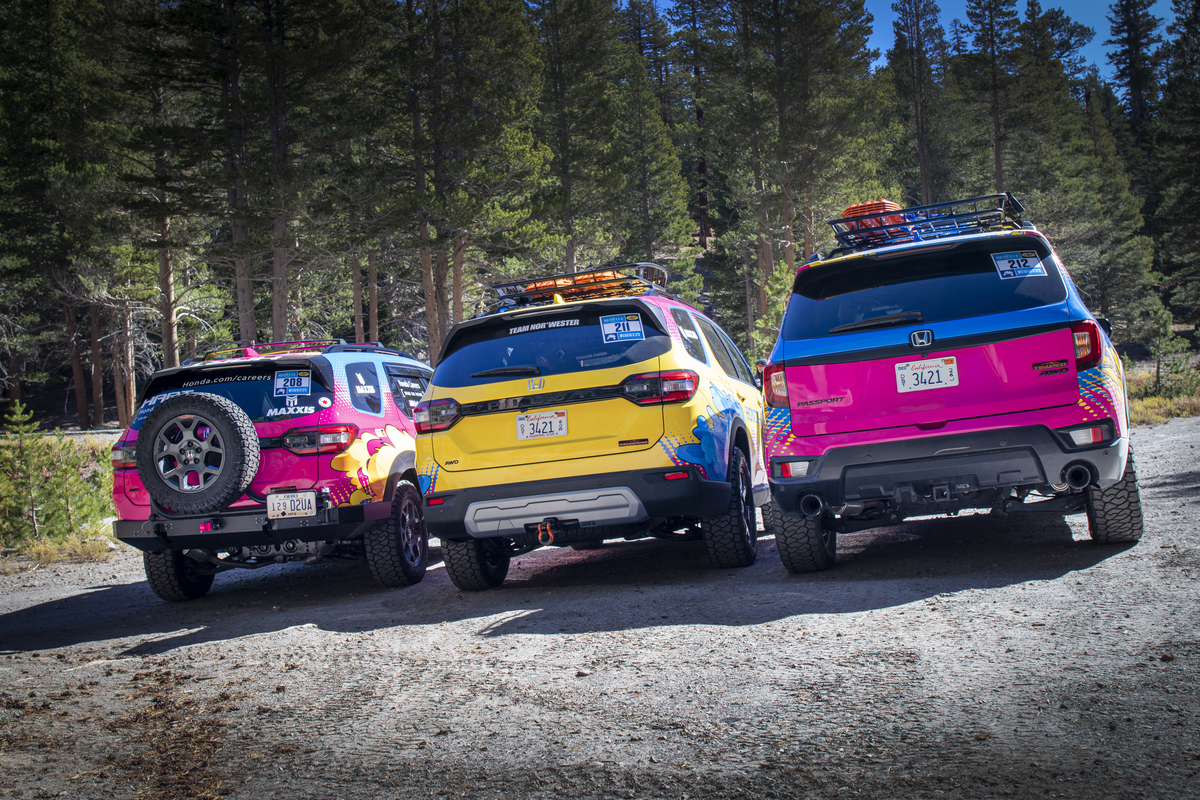 Ohio-based Honda associates Liz Long, a chassis reliability test engineer at the Honda Auto Development Center (ADC) in Ohio, and Hillary Tate, a project administrator of design and construction for Honda facilities across North America, will drive a race prepared Honda Pilot TrailSport in the X-Cross™ category. The duo is part of the Honda of America Racing Team (HART), a unique racing program run entirely by Honda associates throughout the United States.
Pilot TrailSport is Honda's most off-road capable SUV ever with standard steel skid plates protecting the oil pan and fuel tank, raised off-road tuned suspension, trail-ready all-terrain tires and expanded all-wheel drive system capabilities. For competition, ADC has added custom-fabricated steel bumpers and Maxxis RAZR AT tires for improved traction in all conditions.
"HART is an example of the Honda Racing Spirit", said Tate. "In addition to allowing me to follow a passion and grow outside my role at Honda, competing in events like the Rebelle Rally are the best way to test and improve new Honda technologies."
A 2024 Honda Passport TrailSport will also compete in the X-Cross™ category, showcasing the performance of the model's new off-road tuned suspension with increased articulation. It will be piloted by Honda Performance Development (HPD) IndyCar trackside engineers and Rebelle rookies Serena Halterman and Nicole Rotondo. HPD in Southern California prepared their Passport TrailSport for competition by making just three modifications from stock, adding custom-fabricated steel skid plates, front recovery points and Maxxis RAZR AT tires.
Competing in the Bone Stock category, the 2024 Pilot TrailSport piloted by award-winning automotive journalist Mercedes Lilienthal (driver) and her teammate, Emily Winslow (navigator) also receives Maxxis RAZR AT tires for improved off-road traction. Based out of Portland, OR, this will be Lilienthal's fourth Rebelle, while Winslow, based near Seattle, WA, will be competing in her fifth.
"It's an honor to be a part of the Honda TrailSport triple threat this year," said Lilienthal. "I'll be relying on the Pilot TrailSport's torque-vectoring i-VTM4® all-wheel drive system, and other tech and capability features to help me get through tough terrain, but it also takes a good driver to pick the best lines to conquer tricky trail sections."
The Rebelle Rally is not a race for speed; it's a unique event where teams strategically navigate the rugged terrain without the assistance of GPS or cellular navigation. Teams rely on traditional elements such as paper maps, compasses and headings to navigate to hidden checkpoints, with the goal of accruing the most points and reaching the finish line each day. The 2023 Rebelle Rally will feature its largest field to date with 65 vehicles entered.
Teams can be followed along online as they travel from North Lake Tahoe to the Imperial Sand Dunes on the Mexico border from Oct. 12-21 at www.rebellerally.com/live/.
About Honda 
Honda offers a full line of clean, safe, fun and connected vehicles sold through more than 1,000 independent U.S. Honda dealers. The award-winning Honda lineup includes the Civic and Accord, along with the HR-V, CR-V, Passport and Pilot sport utility vehicles, the Ridgeline pickup and the Odyssey minivan. Honda's electrified vehicle lineup includes the Accord hybrid, CR-V hybrid, and, in the future, Civic hybrid. The Honda Prologue SUV, Honda's first volume battery-electric vehicle, will join the lineup in 2024.
Honda has been producing automobiles in America for over 40 years and currently operates 18 major manufacturing facilities in North America. In 2022, more than 99% of all Honda vehicles sold in the U.S. were made in North America, with more than two-thirds made in America, using domestic and globally sourced parts. More information about Honda is available in the Digital FactBook.
About the Honda of America Racing Team (HART)
Founded more than 30 years ago, the Honda of America Racing Team (HART) is among the longest-running associate-driven activities in Honda's rich history and includes the majority of the company's associate-led racing teams in North America. HART competes in a wide variety of motorsport competitions ranging from road racing, club-level events, rally or off-road racing, or even karting. HART provides invaluable experience to associates through motorsport, while transferring vehicle performance learnings into the development and manufacturing of next-generation Honda and Acura products.
About Honda Performance Development / Honda Racing Corporation USA
Honda Performance Development, Inc. (HPD), has a rich heritage creating, manufacturing, and supporting Honda Racing and Acura Motorsports customers since 1993. From pinnacle racing in INDYCAR and IMSA Sports Cars to commercial racing programs, HPD powers the dreams of professional and amateur racers from age 4 to 40+. HPD is a wholly owned subsidiary of American Honda Motor Co., Inc. and leads all of Honda and Acura's high-performance racing programs in North America.
HPD specializes in the design and development of powertrain, chassis, electronics, and performance parts, as well as technical and race support. HPD offers parts and race support to Honda and Acura amateur and professional motorsports racers and is continually expanding its palette of racing programs that make Honda racing products available to all racing styles, from karting and Quarter Midgets to the highest levels of pro racing. As of Jan. 1, 2024, HPD will be rebranded as Honda Racing Corporation USA (HRC US) to reflect its expanding role in Honda's global racing activities.